Launch of

The Property Shop

business

9/2/07
New services for St.Helena
At last, the announcement has been officially made.
With adverts in the two local newspapers, an interview on Radio St.Helena and the targeted announcement using email to a number of potentially interested parties, The Property Shop has come into being - St.Helena's first Property Management company and Estate Agency.
What SHDA said about the launch...
"We would like to congratulate Mr Stuart Moors on the launch of his new business - The Property Shop. It is with hard work & determination that you have achieved your goal. We first became aware of Stuart's business idea when he attended our Entrepreneur Summer School in January of last year. The school was designed to give budding entrepreneurs the information, confidence and drive required to get their ideas off the ground. Stuart you have now accomplished your first milestone of which we are very proud."
The launch of this service indeed fills a niche, because until now, no-one wishing to sell property privately has had anywhere to go to help in the marketing, no-one looking to buy a property has had anywhere central to begin their search. The same goes for rented property as well - apart from holiday accomodation, St.Helena has had no-one to act as a repository for opportunities for letting and renting.
But the exciting aspects for absent home-owners may very well be the Property Management and Property Watch services, which can give peace of mind to the owners and even earn some money in the process.
This launch has taken more than a year (in elapsed time, at any rate). The original business plan was drawn up in preparation for the Entrepreneur School 2006, organised by the St.Helena Development Agency, to whom I am indebted for their help. Since then, I have been aided by my mentor, and given encouragement by a small number of friends in the know, and, of course, my wife.
The business plan focuses initially on residential properties, but in time, other products will be added, in particular:
Gestation
Conveyancing

This should be added fairly quickly if SHG can organise training prior to licensing conveyancers

Commercial property sales

As for residential sales, but for commercial properties (and, potentially, Government properties)

Commercial property rentals & leases

As for residential rentals, but for commercial properties (and, potentially, Government properties)

Commissioned property search

Providing a service to potential purchasers and tenants (where all other services are aimed at vendors and landlords)
Watch out for more news in these pages and announcements in the press.
If there are property-related services not listed in these pages that you feel we can help with, please call us or email us.
First customer discounts
We already have a schedule of prices (which, in the main, will be of no surprise to any of you who have bought, sold or let properties in places such as the UK or South Africa), but as an introductory offer, the first two residential sales instructions and the first two property management instructions will be charged with a substantial discount. Please contact us by phone or email (see About us) for details.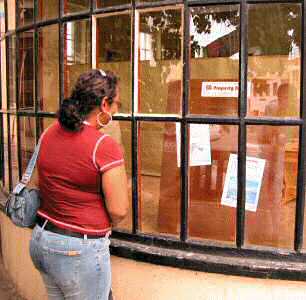 Thanks
Quite a lot of people have contributed to this launch process, whether they knew it or not!
Particular mention must be made of the help that the Legal, Lands and Planning Department have been, and to the St.Helena Development Agency and the Bank of St.Helena for their small but crucial contributions. Thanks to Bernice, who has let me use the window in the Canister building.
Thanks, also, to my Mentor for keeping me on track.
Stuart Moors, Director
The Property Shop